A few of our Favourites

from our shop

Restore your sense of wellbeing for a moment and return to your daily life feeling uplifted and recharged. By choosing to own a Sharon B Design item, you can enhance your living and/or work space with something that is not only beautiful and functional, but also leaves a smile in your heart and uplifts your soul! Visit our shop to view full collection.
SHOP ORIGINAL PAINTINGS
Sharon Leilani Boonzaier Proudly South African artist, Sharon Leilani Boonzaier creates bold, fresh, original oil, ink and gold leaf paintings depicting natural beauty. Capturing natural imagery creates windows through which the viewer can be refreshed and reminded of our natural environment and hopefully be inspired to protect and respect it!
SHOP ORIGINAL PAINTINGS
SHOP DÉCOR PRODUCTS
Original artwork is transformed onto a range of luxury décor, gifting and wearable art. These include Belgian linenware, gifting and fine-wool, cashmere, and silk scarves.
SHOP DÉCOR PRODUCTS
OUR STORY
The challenges from the pandemic have touched us all in some way, causing us to seek out that which brings us joy and restores our sense of wellbeing. By curating one's space with intention and care, one has the opportunity to nourish ones own creative flair, allowing one to make choices about how to enhance ones living space. Surrounding one's self with Sharon B Design artworks brings joy to one's headspace and heartspace!
Sharon Boonzaier creates original handpainted artworks depicting themes from our natural environment. Certain artworks remain as original once-off pieces, whilst others are scanned and printed onto a variety of substrates to create luxury linenware, gifting, ceramics and scarves. It is with much joy that we get to share what we love doing, as well as helping to support local seamstresses, bookbinders, studio assistants and their families.
Boonzaier describes her paintings as "stillness with motion! Paint demands a level of spontaneity. It does not like to behave, nor be told what to do! It will run exactly where you don't want it to go and then create something totally magical."
Sharon explores a variety of mediums including ink and oil and often uses other solvents and mediums to change their consistency and movement on the paintings canvas. However Sharon maintains the suspension of belief by not fiddling with the composition too much. "Brush strokes must be fresh, never tired and over worked."
Sharon B Design home decor by Sharon Boonzaier
Sharon has transformed certain original paintings into a range of fabric, gifting and home décor products for Sharon B Design. These include linen cushions, table clothes, drapes, tea towels, candle shades and porcelain candles in addition to Sharon's beautiful paintings.
Customers are able to purchase from our online shop at  www.sharonbdesign.co.za or make an appointment via email (info@sharonbdesign.co.za) to visit our working studio and showroom.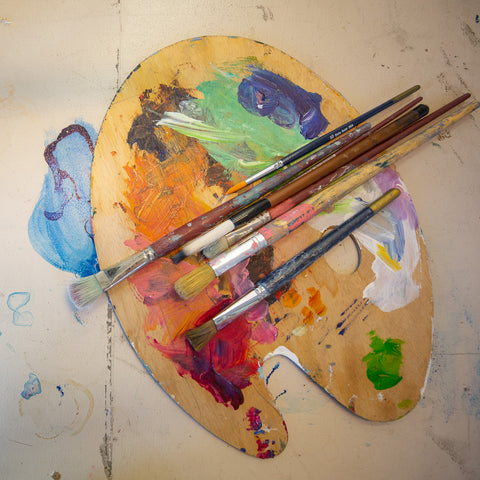 Painted with heart
Painting and art can uplift us and transport us towards a new direction with just a few simple brush strokes of inspiration. "A painting requires a bit of mystery, some vagueness, and some fantasy…" Edgar Degas
Made with love
We are passionate about using beautiful natural materials to create our products. Each item is adorned with hand painted or digitally printed scenes inspired by nature and pattern.
Own something inspiring
Add a flair of creative expression to your living space; a little emerald bird motif here and a watery delft Koi fish there…